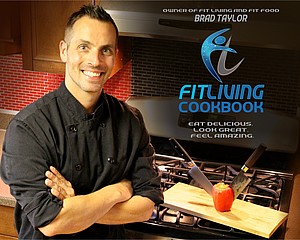 Our cookbook is available on Amazon now.
What is Fit Food?
Fit Food serves Regina in numerous ways. We provide fully cooked meals with home delivery, healthy cooking classes, grocery store visits and specifically designed meal plans. Everyone knows that healthy eating is the best way to live a long strong life, but unfortunately most people don't know possess the skills and knowhow to make it easy, quick and tasty. That's where we step in. Picture a personal trainer who has years of professional cooking experience with trained chef's from around the world. Choose from our online menu or we can design any unique meal plan that suits your needs.
The Cook
Brad, who does all the cooking for Fit Food, spent a number of years cooking professionally in Canada and Australia. During his time at university Brad worked at the Cathedral Freehouse and became morning sous chef for a number of years. After convocating from the University of Regina with a degree in Kinesiology he moved to Australia in search of adventure and to discover new experiences. While living in Melbourne, Brad trained under a French chef and while living in Brisbane he trained under an Italian chef. He eventually worked his way up to executive chef at a fine dining wine bar on foodie Fitzroy Street in Melbourne. Brad's mission is to continue to utilize the skills he has learned in the restaurant industry to develop healthy, delicious food for the people of Regina. Being fit and eating delicious doesn't have to be an option!