Menu
Here are sample menus that can be used for at home ordering. Our time saving meal delivery lets us shop, cook, portion and deliver all your meals. A minimum of $150 must be purchased on all orders. We also offer personalized keto, vegetarian and halal meal orders.
Choose your dishes and contact Brad at bradtaylorfitliving.ca or 306-537-3321 to place orders. Give us a day or two and your meals will be delivered right to your door. All deliveries in Calgary are subject to a $5 charge, the surrounding area is subject to $10.
Basic menu $159 - choose 3 dishes and get 4 servings of each (12 total meals - $13.25 per meal)
General Tao's chicken with broccoli and basmati rice.
Moroccan chicken with sweet potatoes and feta garlic sauce.
Italian style turkey meatballs with mixed vegetables.
Butter chicken with basmati rice (no butter, it's healthy!).
Blackened beef or chicken burrito with roast vegetables.
Bacon and pesto egg frittata with roast potatoes.
Spicy Korean chicken with coconut rice.
Skinny burrito bowl with Mexican rubbed chicken.
Thai green curry with green beans and basmati rice.
Traditional Greek salad with chicken and tzatziki sauce.
Pork salisbury steak with mashed potatoes and veg.
Coconut lime chicken stir-fry on basmati rice.
Chicken or beef stir-fry with mixed veg on basmati rice.
Executive menu $179 - choose 3 dishes and get 4 servings of each (12 total meals - $14.90 per meal)
Beef and broccoli stir fry with coconut rice.
Bone in blackened chicken breast with fingerling potatoes and broccolini.
Lean sirloin spaghetti Bolognese with whole wheat pasta.
Shrimp Pad Thai on rice noodles with mixed veg.
Jerk chicken with Jamaican rice and beans.
Honey glazed salmon with rice and veg.
Chili garlic and lemon shrimp linguine.
Tikka Masala with green beans and basmati rice.
Tuscan chicken with sundried tomatoes and basmati rice.
Vegetarian menu $150 - choose 3 dishes and get 4 servings of each (12 meals - $12.50 per meal)
Coconut chickpea curry with basmati rice.
Spicy tofu stirfry with rice and veg.
Pesto and egg frittata with roast potatoes.
Mini egg cups with peppers, onions and cheese.
Blueberry protein pancakes.
Lentil Bolognese with whole wheat pasta.
Vegetarian curry bowl with basmati rice.
Keto menu $169 - choose 3 dishes and get 4 servings of each (12 meals - $14.10 per meal)
Beef chili with bacon.
Bacon and cheese frittata.
Herb and butter salmon with green beans.
Steak and eggs with roast veg. (add $3.00 per serving)
Buffalo chicken drumsticks with asparagus.
3 kinds of hot sauce hot wings with roast veg.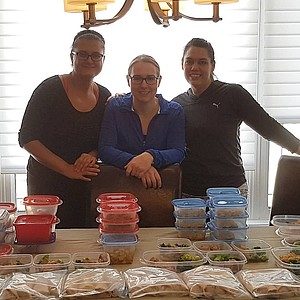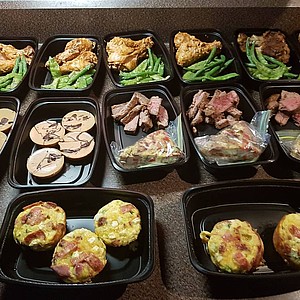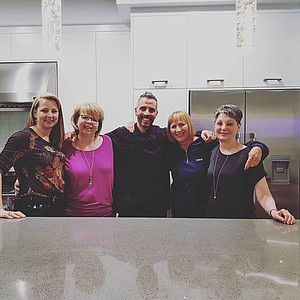 Fit Living meal prep cooking classes are designed to get you into the habit of making meal prep easy, healthy and delicious. Basically we teach you how to cook as fast and delicious as a chef; but as healthy as a personal trainer. Healthy eating can be easy and we teach you step by step how to do it efficiently and make your cooking life easier. Don't want a class? We can also cook for you and make your eating delicious, nutritious and easy.
Update: Our classes will be held virtually until Calgary reopens, keep up to date by following our Facebook page. We will be running virtual cooking classes weekly.
What does a typical class involve? Each class takes about 3 hours and includes cooking 15-20 dishes to store for the week, going over individual macro numbers, learning proper kitchen techniques, and how to properly food prep for the week. A great idea for a splurge group, wedding party, sports team, or just a group of friends wanting to learn more about food.
Where do the classes take place and how many people can attend? The classes take place at your house to ensure you have the know how to food prep for yourself going forward. A class can be for one person or up to a maximum of 4 people.

What do I need to bring? Once we decide which dishes to cook you will be sent a grocery list on what to purchase. We use your kitchen equipment to make sure you are prepared going forward to cook on your own. The cost of groceries will be around $50 or less.
Do I get menu options on what we cook? We can cook any dishes you like! Each class we get to collaborate and design your own menu. We can do macro specific, keto diet, vegan, or generalized healthy dishes that you enjoy. The possibilities are endless and delicious!
What does a typical menu look like? A good idea is to cook a breakfast dish, lunch and dinner item. An example of this would be a bacon frittata for breakfast, chicken stir fry for lunch and spaghetti Bolognese for dinner. Any combo works though, we can cook all lunches for example.
What do I do with all the food we cook? Each dish will be portioned into individual servings that you can freeze/refrigerate. A good system to use is from freezer to fridge to belly. Having an adequate supply of Tupperware is essential to proper storage and meal prepping.
How do I book a class? Contact Brad to book a class or for more information. 306-537-3321 or bradtaylor@fitliving.ca
Is there anything else I need to know? Please indicate any allergies or food dislikes. Our menu is designed to your preference so don't be afraid to be picky with your choices. And yes you can drink wine!
Pricing
Group class of up to 4 participants $100/each
Private Individual class $150